Vicente Sanfuentes to host guest workshop at Point Blank Los Angeles
May 3, 2017 \
Uncategorized
\ 0 Comments
Point Blank Los Angeles hosts regular workshops and masterclasses at our Mack Sennett studio complex for our students – recently we've had the likes of Mix Master Mike, DiViNCi & Robot Koch stop by our studios to give an insight into their work and their creative processes. We're happy to announce that MTV and Grammy Award-winning producer/DJ Vicente Sanfuentes will be joining us at PBLA for an exclusive masterclass on May 18th. This is a student and graduate only event, but for those looking to get a flavour of the study experience at PBLA we are holding a free Open House and production workshop on Thursday 15th June. This will feature a tour, networking opportunities, student performances and a masterclass from PB instructor and LA Legend Sweatson Klank.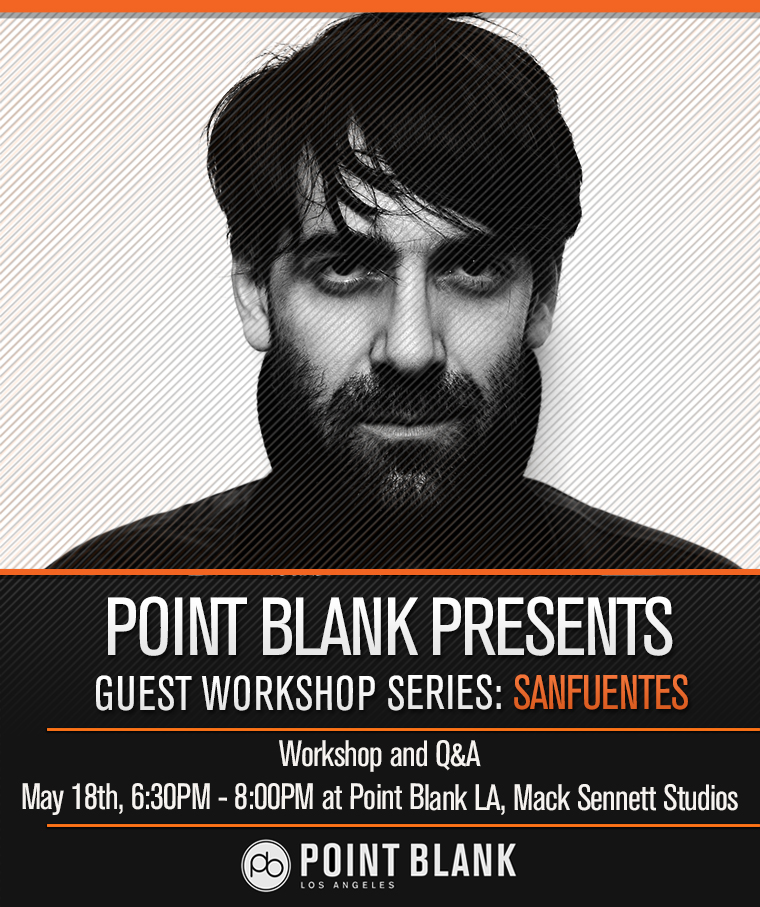 Sanfuentes' credentials are extensive. He has worked with both Native Instruments and Universal Audio, as well as producing for Matias Aguayo, Daniel Maloso, Rebolledo and many more. He has had releases on labels like Kompakt, Third Ear, Boyz Noize & Sonic 360 and in 2013 founded his own label, Sanfuentes Records, to release his Techno & House material at a steady pace as well as multiple artists from Argentina, Mexico, Chile and Germany. He is a founding member of Cómeme Records with Matias Aguayo and has graced the stage at a multitude of festivals and venues all over the globe, including Sonar, Panorama Bar, Creamfields and Lollapalooza to name a few. His DJ sets are known to be wild, elegant and extremely jacking, bringing the best of the Techno and House together seamlessly, not to mention his incendiary analogue live shows as one-half of Techno/House duo Surtek Collective.
This masterclass gives our students and graduates the opportunity to see Sanfuentes work on a finished track and hear him share his pointers on how to find success in the music industry. For those who'd like a flavour of these workshops, we are holding a free open house event on Thursday 15th June. This will feature a tour, networking opportunities, student performances and a masterclass from PB instructor and LA Legend Sweatson Klank. For more information, click here.
,Guest workshops and industry opportunities are a core part of the experience at studying at Point Blank Los Angeles. To find out which course is for you, visit our Los Angeles course page to find out more – but hurry, you'll need to sign up ASAP as spaces are limited for the forthcoming term. We've got everything from production, sound design and mixing courses to DJ'ing, so if you want to start your career in the music industry, Point Blank is the place to be. If you want to know more and you're in the USA, give us a call on 323 282 7660, or contact us here. We are also currently offering a huge 20% off all of our LA production courses, as well as a free copy of Ableton Suite, bringing your potential savings to $3750. Enrol soon, as this offer expires on 31st May!
Register to Access Free Courses, Plugins, Projects, Samples & More
When you register with Point Blank, you access an array of free sounds, plugins, online course samples, access to our social network Plugged In and much more! Simply register below and visit our Free Stuff page to get your hands on a range of exclusive music-making tools and tutorials provided by the team. Fill your boots!

The post Vicente Sanfuentes to host guest workshop at Point Blank Los Angeles appeared first on Point Blank's Online Magazine.