February 22, 2018 \
Uncategorized
\ 0 Comments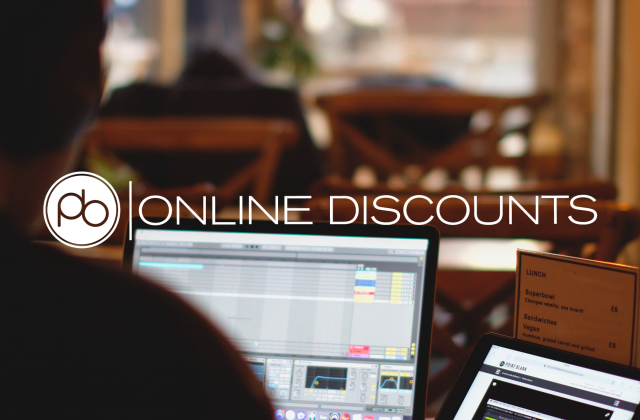 Every student loves a discount, so why not check out this list of offers available to you when you become a Point Blank online student…
To take advantage of the discounts below, email Support.
Discount for Returning Point Blank Students
So, you've finished your online course but still feel there's more to learn. No worries. We offer discounts on future courses for all returning Point Blank students.
---

Free Copy of Ableton Live Suite
When you enrol on any of our online HE Programmes (including our new BA (Hons) Music Production & Sound Engineering Degree), you will get a free copy of the latest version of Ableton Live Suite worth £520/$750 (with Ableton software selected).
---

Free Copy of Logic Pro X
When you enrol on any of our online HE Programmes (including our new BA (Hons) Music Production & Sound Engineering Degree), you will get a free copy of the latest version of Logic Pro (with Logic software selected).
---

50% Off Komplete 11 and Komplete 11 Ultimate
Any online students on our HE Programmes, Professional Programmes or Native Instruments Komplete can buy Komplete 11 and Komplete 11 Ultimate for a massive discount of 50%. That's a whopping saving and gives you everything you need to start making great music. Please note that discounts are not available on upgrades.
---

70% off all Eventide plugins
Our friends over at Eventide have given students at Point Blank the opportunity to take advantage of a massive 70% off all Eventide plugins, including the excellent Ultratap Delay and Black Hold Reverb, as well as their entire plugin bundle. To get this offer, please get in touch with Support.
---

50% off all Izotope software
The iZotope product line focuses on Music Production, with solutions for mixing, mastering, and creative effects, and Audio Post Production, with tools that enhance audio for film, broadcast, video, and new media. Point Blank students are able to save 50% on iZotope software via this link. There is additionally a free version of mastering software Ozone, which can be downloaded here.
---
Up to 50% off at DV247
We're pleased to say that, as part of a partnership with online music retailers, DV247, Point Blank Online students can get up to 50% off selected products. For more details, contact Simon at DV247 with the particular product(s) you're interested in.
---

Novation & Focusrite & KRK – 10% off
Our good friends at Novation and Focusrite have offered up a great discount for our online students. Their range of products includes the excellent Dicer DJ controller, the Launchpad controller and much, much more.  Once you're signed up for a course, just head here to fill in your details – you can get 10% off all current prices on selected Novation and Focusrite products.
---

25% off first Sounds Pack purchase at Beatport
Our generous friends over at Beatport have given all Point Blank students a whopping 25% off their first Sound Packs purchase when you spend a minimum of $20! Drop an email to Support with your full name and Beatport username to get your code.
---

Save 20% on Attack Magazine's 'Secrets of Dance Music Production' guide
We've teamed up with our friends at ATTACK magazine to offer students an exclusive discount to their incredible resource, 'Secrets of Dance Music Production'. Get in touch at Support to claim your code for this resource that was four years in the making.
---
20% off AIAIAI and UDG Through Dynamic Distribution
Any fans of headphones and products for transporting DJ equipment will be excited by this exclusive discount from AIAIAI and UDG via their UK distributor, Dynamic Distribution. AIAIAI's headphones are used here at the college and UDG's gear is universal, used by DJs all over the world! The offer is for a massive 20% off selected items, so make sure you drop us a line to find out more.
---

Up to 35% Discount on Bundles and Upgrades at Waves
All Point Blank students are entitled to 25% off all bundles and upgrades and 35% off selected bundles. Just email Waves stating that you're a Point Blank student to claim your discount.
---

320MB+ of Free Loopmasters Content
Get 320mb+ of free content. This carefully curated sound pack incorporates cutting edge elements from the most up to the minute sounds in underground music, which you will be able to use throughout your studies. Loopmasters are also offering an incredible discount of 20% on the first purchase of any Loopmasters product for Point Blank students.
---

Up to 50% off Selected Plugins with Plugin Boutique
We have also teamed up with Loopmasters sister site Plugin Boutique to offer students 30% on Fxpansion plugins: DCAM Dynamics, DCAM Synth Squad and Maul. Buy all three together and get a whopping 50% off! Also, 50% off Sonnox, D16 Group, 40% off Izotope and 20% off Arturia. Get 20% off all of their products.
---

40% off Microphones at Sontronics
Desperately in need of a new microphone but worried about the price? Well, don't fear! Our friends and official education partner, Sontronics, are offering all Point Blank students a mighty 40% off the RRP on their microphones, so be sure to get in touch to pick up your bargain.
---

30% off Output products for Point Blank Students
Output are the creator of some ground breaking plugins and instrument libraries, including REV, Signal and EXHALE, opening up a world of sound design which has been consistently hailed as "inspiring" and "creative" for producers, composers and musicians. Head here for details of accessing a 30% discount.
---

40% Off Sonic Faction's Archetype Kontakt Bundle
To celebrate its partnership with Point Blank, Sonic Faction is offering a whopping 40% off its Archetype Kontakt Bundle for all students and alumni. Contact us with your course details to access the code. Archetype Kontakt Bundle is the essential collection for Kontakt, featuring 8 legendary instruments redesigned with a modern twist. Archetype features vibrant analog synths and drums, reactive animations, and over 800 presets. It includes Komplete Kontrol and Maschine integration as well! Learn more about Archetype here.

The post Point Blank Online – Exclusive Student Discounts appeared first on Point Blank's Online Magazine.