LA Halloween Offer: Take 2 Courses & Get 1 Free, Plus Free Ableton Suite. Save $2745!
October 6, 2017 \
Uncategorized
\ 0 Comments
We have a special offer for courses at our school in Los Angeles. Book two courses and get a third absolutely free. On top of that we're offering a free copy of Ableton Live Suite, worth $750. That takes the total saving to $2,745! Covering DJing to sound design and composition, mixing and production, this brand new offer allows you to learn that one extra skill to really round off your training. The offer ends November 6th, so don't sleep!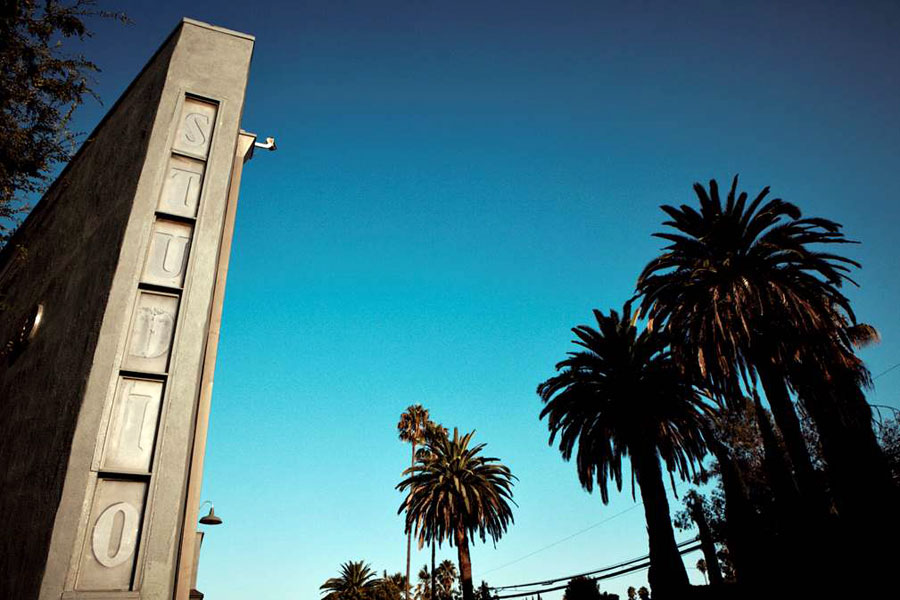 Outside our LA Studios
We believe that we can offer an experience like no other at Point Blank LA. Our instructors are all highly passionate music makers with invaluable expertise on offer, giving our students the tools to express themselves through music. If you take a course with us, you'll be instructed by the likes of Sweatson Klank (Music Production), who's released on Project: Mooncircle, produced mixes for dublab and Brainfeeder, and has his 'Then I Was Me' EP forthcoming on one of LA's finest labels: Friends of Friends; Joe Computo (Sound Design) whose technicolour experimentations carry on the west-coast traditions upheld by the likes of Flying Lotus and his ilk; and Arabian Prince (Music Business) of the mighty NWA.
Point Blank LA Instructor Sweatson Klank
Students at our LA school also get free access to regular masterclasses helmed by some of the biggest artists around. We've recently hosted masterclasses from artists like Mixmaster Mike, DJ Kentaro, Sample Magic CEO Sharooz Raoofi and Daddy Kev, while our most recent edition was with the one and only Todd Edwards.
If that's still not enough encouragement, why not take our virtual tour of our Los Angeles Studios and have a look at the range of state of the art equipment our students work with. Our DJ studios are full of the latest equipment from Pioneer DJ, and all our production studios are filled with the latest gear from partners including Native Instruments and Ableton, including Maschine, Komplete Kontrol and Push units.
Our newest production suite at PBLA
Want to get started in realizing your passion for music production? Why not enroll on Introduction To Music Production, combine that with Sound Design With Ableton Live as well as Native Instruments Maschine to get to grips with industry standard software and hardware. In addition, we're currently offering a free copy of Ableton Live Suite worth $750, so you'll save a total of $2,745 when you enroll! Whatever your passions, this offer caters to your every taste.
For more information, contact a course advisor or give us a call on 323 282 7660. If you're calling from outside the US, use the number +44 20 7729 4884. (offer excludes weekend courses).
Register to Access Free Courses, Plugins, Projects, Samples & More
When you register with Point Blank, you access an array of free sounds, plugins, online course samples, access to our social network Plugged In and much more! Simply register below and visit our Free Stuff page to get your hands on a range of exclusive music-making tools and tutorials provided by the team. Fill your boots!

The post LA Halloween Offer: Take 2 Courses & Get 1 Free, Plus Free Ableton Suite. Save $2745! appeared first on Point Blank's Online Magazine.